Tsorng-Whay Pan

Professor


Office:683 PGH
Office Hours: 1PM-2PM MW, or by appointment (01/20/15-05/14/15)
Phone: (713) 743-3448 ; Fax: (713) 743-3505
Email: pan@math.uh.edu

---
Research: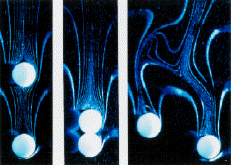 Research interests: Fluid/particle interaction, Blood cell motion in microchannel, Computational fluid dynamics, Scientific Computing, Numerical Analysis.
Research funding.
Animation of simulation results of particulate flow and blood cell motion.
We gratefully acknowledge the support of the NSF.
---
Teaching
The Courses I teach in Spring, 2015:
Math 4365: Numerical Analysis (MoWe:4PM-5:30PM at AH 202)

Either Math 2431 (Linear Algebra) and Math 3331 (Differential Equations) or Math 3321 (Engineering Mathematics).
Ability to do computer assignments in FORTRAN, C, Matlab, Pascal, Mathematica or Maple.
Textbook : Numerical Analysis (8th edition) by RL Burden and JD Faires.
---
---
My Ph.D. Students
(I have also supervised many M.S. students):
The following is a list of students who completed Ph. D. under my direction and their current, or last known, positions. Any updates, or corrections, will be appreciated.

Jian Hao, Ph.D., 2007. Postdoctoral fellow, Department of Mathematics, Southern Methodist University, Dallas TX.
Tong Wang, Ph.D., 2008. Associate Professor, Department of Mathematics, Nanjing University of Aeronautics and Astronautics, Nanjing, China.
Lingling Shi, Ph.D., 2013. Postdoctoral Research Associate, Department of Mathematics, University of Houston.
Yao Yu, Ph.D., 2013. CGG (Compagnie Générale de Géophysique).
Xingting Niu, Ph.D., 2014.
Shihai Zhao, Ph.D., 2014.

My current Ph.D. students: Shang-Huan Chiu, Aixia Guo.
---
Seminars and Conferences:
---