MATH 6397 Multiscale Analysis and Sparse Representations

When and Where
Semester: Fall 2017
Meeting time: MWF 10-11
Meeting place: AH 301
Office Hours: Wed, Fri 11-12 or by appointment

Instructor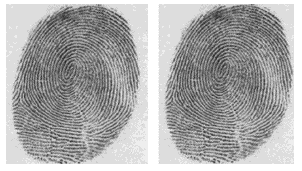 An FBI-digitized left thumb fingerprint.
The image on the left is the original;
the one on the right is reconstructed
using wavelets with a 26:1 compression.
Course Objectives
We live in a data-intensive age which is bringing significant changes in the process of scientific discovery. During the last decade, sparsity has emerged as a leading theme in connection with the goal to produce faster and simpler algorithms for a wide range of signal processing applications. By enabling to accurately approximate functions in a certain class using a relatively small number of nonzero coefficients, sparse representations are able to reveal the essential information we are looking for in the data. Therefore, sparsity implies not only data compression. Understanding the sparsity of a given data type entails a precise knowledge of the modelling and approximation of that data type. This knowledge is essential to design the most efficient algorithms for a tasks such as classification, denoising, interpolation, and segmentation. Multiscale techniques based on wavelets and their generalizations have emerged in the last decade as the most successful approach for sparse signal representations, as testified, for example, by their use in the new FBI fingerprint database and in JPEG2000, the new standard for image compression. Multiscale techniques were also extended beyond the traditional setting of physical spaces allowing for the efficient analysis of general structures, such as manifolds, graphs and point clouds in Euclidean space. The aim of this course is to provide the mathematical tools to understand multiscale representations starting from the setting of traditional wavelets up to more advanced and emerging constructions such as curvelets, shearlets and diffusion wavelets. Applications of these ideas will also be presented.



Background: Elements of Fourier analysis:

I will review Fourier analysis, including Fourier transform on Euclidean spaces, Fourier transform of distributions, convolution and filtering.



Wavelet bases:

The first wavelet basis, the Haar basis, was discovered in 1909 before wavelet theory was born. Unfortunately, the elements of this basis are not continuous. The success of the wavelet theory is due to the ability to construct a variety of wavelet bases with very nice mathematical properties such as smoothness, compact support, vanish moments, etc. I will present several examples of wavelet bases and describe what kind of features are desirable in such a basis.



Multiresolution Analysis:

Multiresolution analysis is a general method for constructing wavelet bases. I will describe how to use this approach to construct Shannon wavelets, Daubechies wavelets and Meyer wavelets.



Sparse compression and approximation theory:

One striking feature of wavelets is their ability to represent function with discontinuities. In fact wavelets have optimal approximation properties for several classes of functions and signals. I will introduce linear and nonlinear approximations, examine the approximation properties of wavelets and compare them to Fourier methods. I will examine the construction of more advanced multiscale systems, namely curvelets and shearlets, and discuss their improved approximation properties.



Multiscale representations and signal processing:

Wavelets appear today in a variety of advanced signal processing applications, including analysis and diagnostics, quantization and compression, transmission and storage, noise reduction and removal. I will describe the connection between wavelet theory and filter banks theory in signal processing. I will present applications of wavelets and other more advanced multiscle methods to data/image compression and denoising. Some of this applications will be further explored by the students as individual or group projects.

Prerequisite
HOMEWORK
Text
There is no official textbook.
I will select material from: A basis theory primer, by C. Heil, 2011, A wavelet tour of signal processing, by S. Mallat, Third edition, 2009 A First Course on Wavelets , by E. Hernandez and G. Weiss, 1996, Fourier analysis and applications, by C. Gasquet and P. Witomski, ...
Notes and papers will be provided by the instructor.